Recently The Terminator movie celebrated its 35th anniversary of being released. We Remember iconic lines such as "I'll be back" or "On your feet soldier". This film truly left an impact on the movie industry and what better way to celebrate it by dropping a new installment on The Terminator universe.
Directed by Tim Miller (Deadpool) and produced by James Cameron, The Terminator: Dark fate is set up 27 years after the events of Terminator 2: Judgment Day. Dani Ramos is being hunted by a deadly new Terminator, a Rev-9 who travels back through time to kill her. Now, Dani's survival depends on her joining forces with Grace, an enhanced super-soldier from the future, and Sarah Connor. In the middle of the chaos, they are led to a T-800 from Sarah's past that may be their last best hope.
As it was stated, the movie ignores the sequels after Terminator 2: Judgment Day. Giving us a completely different outtake in the Terminator franchise. Due to that new-build universe, Linda Hamilton is back at it again to reprise the role that jumpstarted her career, but she's not alone. Joining this cast is Mackenize Davis and Natalia Reyes, making this film a female-centered movie where these women team up to save the future. However, Arnold Schwarzenegger's role felt like a side character in this movie and seemed like he was thrown in there for the nostalgia aspect of it.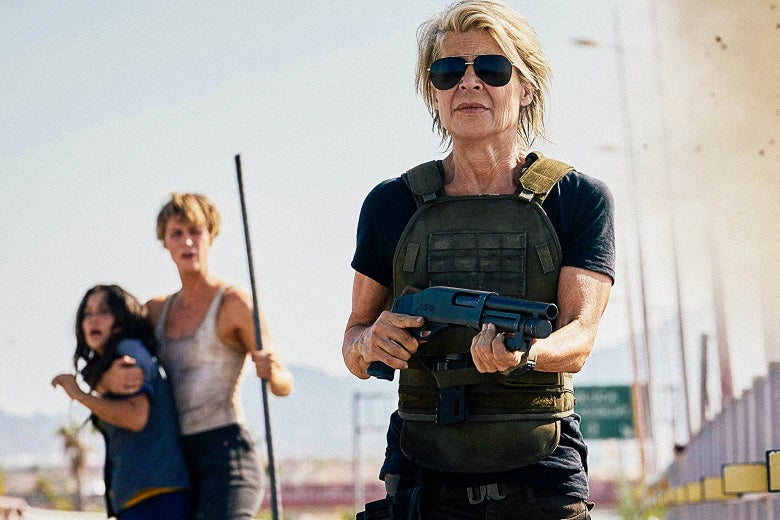 Linda Hamilton made us remember how badass Sarah Connor is as a character and how empowering she is. On the other hand, the acting that stands out through the whole film was Mackenize Davis as Grace, the enhanced super-soldier with solid lines and action-packed sequences.
The film gave us a first good act filled with well-done choreography fights and a full-on car chase sequence. For a moment there, the movie was fine but, what went wrong? Terminator: Dark fate shares the same equation from the first two movies. A terminator is sent back in time to kill a leader of the resistance. It brings nothing new to the table. Don't get me wrong, I enjoyed the parts of the film such as female-trio and women empowerment that shows from it, but it suffered from reused sequences and thus it became predictable on various occasions.
The Terminator: Dark fate is a new chapter for this franchise. Bringing back iconic characters and mixing them with new ones. It's a rollercoaster ride full nostalgia with a side of wrongs by having a promising first act that slowly descends; plus predictable moments. Would I recommend it? Even if the film has faults I still do. Fanatics of The Terminator universe would find an appreciation of this newly build world.
I give this movie 3/5 T-800.
social media ♥