Widows is a 2018 heist movie directed by Steven McQueen (12 years of a slave) and screenplay written by himself and Gillian Flynn (Gone Girl ). This film is based on the 1983 series of the same name. The story takes place after Harry Rawling (Liam Nelson) and his crew committed a heist and went wrong. Now his wife, Veronica (Viola Davis), and the other wives of his crew find themselves burdened by the debts the husbands left them; owning millions of dollars to a criminal gang. The widows team up to commit the ultimate heist to pay back the money they owed.
The director Steven McQueen delivers us a thriller heist assembled by an amazing cast. But, that doesn't mean he knew how to use them in the film. Some of the characters were there to help the story progress but it felt that he could give them more screening time throughout the film. Being on screen for a small amount of time meant putting a lot of character development in one scene; making the scene feel cramped. Viola Davis, as always, steals away everyone's spotlight with her stunning acting.
This is not your typical heist movie. The trailer sells it as an action pack film, but when you see that Gillian Flynn co-wrote it, you'll understand. This film is centered more on the characters development and how they cope with their current situation. It's about real people with real emotions dealing with a situation that's not from their world.
The movie had some great shots and interesting editing. The opening jumped from a peaceful scene to an action pack one and it caught the people from the theater off guard. But I felt some scenes were unnecessary and didn't belong there. The scenes were followed by the score created by Hans Zimmer. Composing songs that helped the ambiance; rising sense of anxiety in scenes such as the heist.
Widows is not another Ocean's 8.  This film concentrates more in how the characters act in this unfortunate situation rather than the heist itself. If you wanna see a good drama or you are just a fan of Viola Davis work, this movie is for you.
I give this movie 3 /5 Heist gone wrong.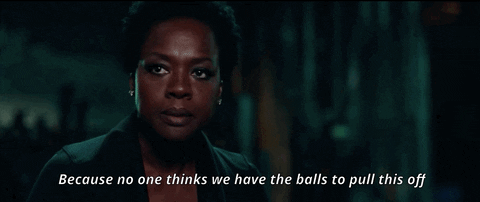 Widows Trailer : 
{video by https://www.youtube.com/watch?v=nN2yBBSRC78 }
{picture by tiff}