"Page. 28"
Earning strong reviews and getting praised at festivals,  Portrait of a Lady on Fire seems to be the next big hit on the foreign film category. Directed by Céline Sciamma, this french movie tells the story of Marianne, a painter who is commissioned to do the wedding portrait of Héloïse. While being reluctant to be painted, it's Marianne's job to observe her and secretly paint her. But as the days go by attraction seems to grow stronger .
Much like the film, the characters slowly take their time to know each other. Pauses between dialogues,  glances, and games of questions; it felt that we as the audience had the privilege to see an intimate look at how these two young women fell in love in a time where same-sex couples were frowned upon.
Being that the setting of the film is on an island, we get a sense of isolation that makes the movie build quite a lot of tension. Beyond the attraction that Marriane and Héloïse have for each other, the actresses had a quite a big chemistry going on that made the bond of these characters believable. 
The film has an exquisite color scheme that makes you not take your eyes out of the screen. From big bright colors to red undertones to it; the film was shot in 8k to preserve the color palettes. Much like a portrait, this film is a beautiful moving painting. Each shot is vibrant and tells the story in a compelling way. 
"Subtle" is a perfect word to describe such a movie. As the relationship between Marriane and Héloïse progressed from small glances to physical attraction; Sciamma made those sexual instances soo subtle yet very intimate. It goes to show that sometimes a movie doesn't need an explicit scene but rather a small sexual connotation can be more impactful.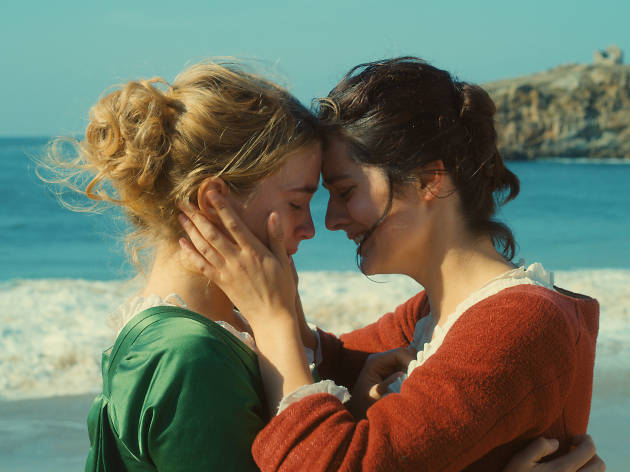 As the film progressed it slowly sinks you into the story. You feel for the characters and root for them to be together. Every detail, glance, and conversation leaves you with a bittersweet payoff of unrequited love. Portrait of a Lady on Fire is a visually stunning period film. Followed by the remarkable cast with an impressive production design. Sciamma brought us a devastating tale of heartbreak and how love can still transcend through time. This movie is definitely one for the books and will be remembered for years to come.
I give this movie 5/5 portraits 
social media ♥